Saturday, November 14 we are presenting Stuff the Trunk.
You can help provide a WORRY-FREE THANKSGIVING for breast cancer survivors and their families by donating gift cards or non-perishable food items.
You can drop off non-perishable donations or gift cards for the families at In the Pink in Jacksonville Beach. Scroll below for a list of suggested items.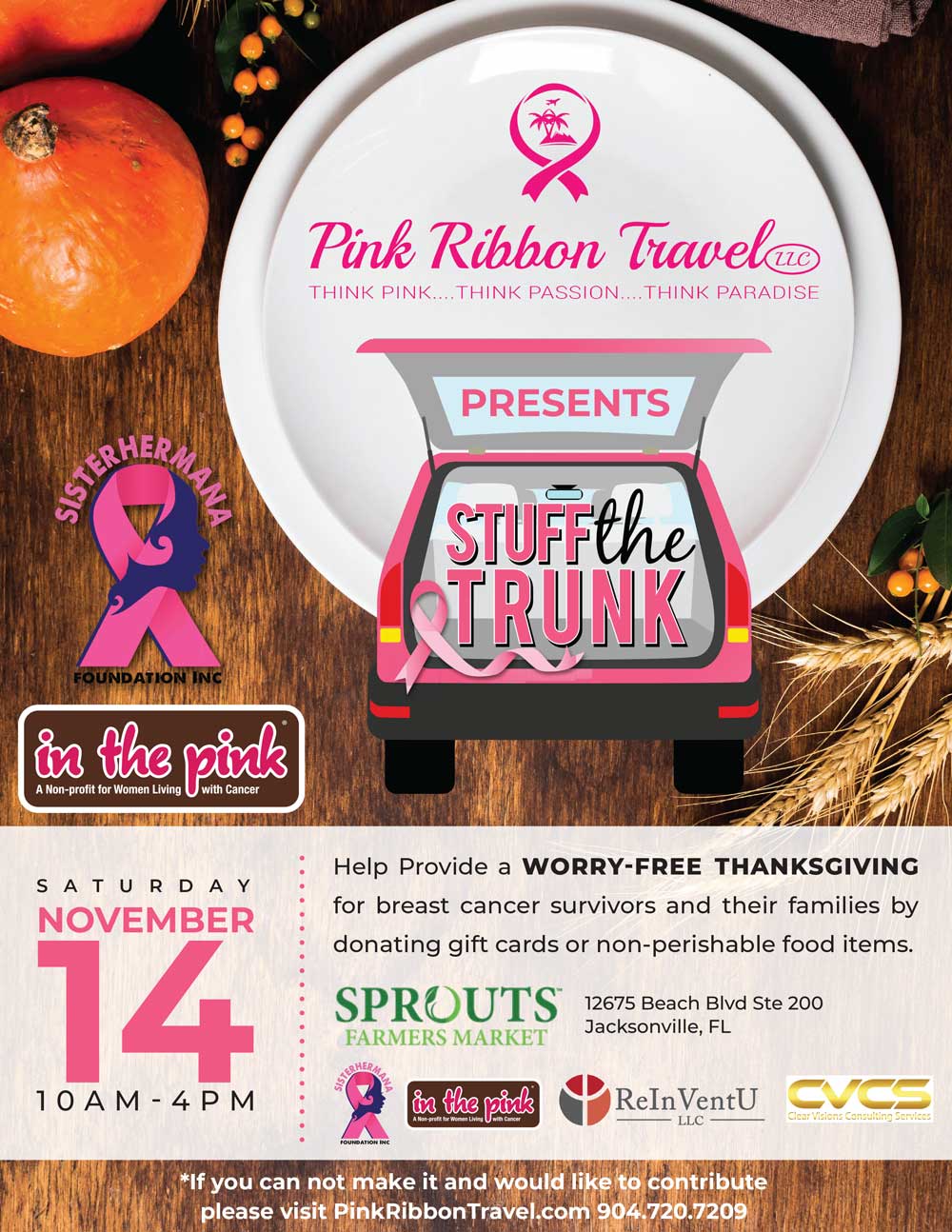 Suggestions for Grocery List for Stuff the Trunk
Aluminum Foil
Bag Of Flour
Bag Of Sugar
Boxed/Pkgd Stuffing
Canned Corn
Canned Cranberry Sauce
Canned Green Beans
Canned Greens
Canned Or Packets Of Gravy
Canned Peas
Canned Pie Filling (Any Kind)
Canned Pumpkin
Canned Yams Or Sweet Potatoes
Coffee
Cream Of Celery Soup
Cream Of Mushroom Soup
Dark Karo Syrup
Dishwashing Liquid
Disinfectant Spray For Counters
Disposable Cooking Pans
Disposable Solo Cups

 

Evaporated Milk (Canned)
French Fried Onions
Gift Cards For Gas
Gift Cards For Groceries
Iced Tea (Bottled)
Mac & Cheese
Marshmallows
Napkins
Olives
Paper Towels
Pecan Halves
Pickles/Gerkins
Plastic Containers (For Leftovers)
Pumpkin Pie Spice
Rice
Salt/Pepper
Saran Wrap
Spices:

 

Cinnamon, Etc.
Sweet Condensed Milk (Canned)
Tea Bags
Toilet Paper
Trash Bags (13 Gallon)
Turkey Broth
Turkey Rub
Wine